Rice University Student Chapter of the Association for Women in Mathematics
About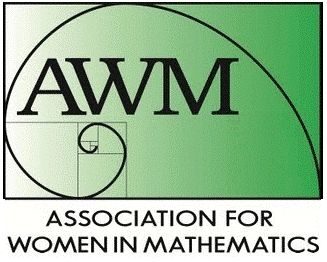 Rice AWM provides a supportive social network for undergraduates, graduate students, and young faculty in mathematics, applied mathematics, and statistics. Our events promote interest in mathematics among women and provide leadership and career development opportunities for young mathematicians.
Rice AWM is open to new members and event suggestions! Please contact awm at rice dot edu to get involved.
Check out the AWM Facebook page, and join our Facebook group to stay up to date with the latest Rice AWM events and news.
(Last page update : 2019-01-12)
---
Upcoming Events
Career Talk : Dr. Cassandra McZeal, ExxonMobil (2019-01-24)
When : Thursday 24 January
Where : HBH 438 (5:00 p.m., refreshments) and HBH 227 (5:30 p.m., talk)
Are you interested in knowing more about what working in industry is like? Are you curious about grad school or do you wonder how to use graduate school as a stepping stone into a successful career? Come join us on January 24th as we welcome Dr. Cassandra McZeal of ExxonMobil for AWM's annual Career Talk!
Dr. McZeal received her PhD in 1999 from the CAAM department here at Rice, and she now works as a manager at the ExxonMobil Upstream Research Company.
---
---
Past Events
2018 - 2019
Welcome Back Picnic (2018-11-09)
When : Friday 09 November
Where : Valhalla
Join Rice AWM for conversation and BBQ! Friday 09 November, starting at 5:30 p.m. Generously sponsored by Rice SAPP Fund.
---
2017 - 2018
Keynote Address : Provost Dr. Marie Lynn Miranda (2018-04-12)
When : Thursday 12 April
Where : Herman Brown Hall Room 227
Pi Day (2018-03-01)
When : Thursday 1 March
Where : lawn by Herman Brown Hall
Grad School Panel (2017-12-04)
When : Monday 4 December, 3 - 4 p.m.
Where : Rice U, Herman Brown Hall 227
Female graduate students from CAAM, MATH, and STAT shared their experience from graduate school application and graduate school life, Dr. Shelly Harvey proffered her experience and expertise, and undergraduates considering graduate school had an opportunity to ask questions and mingle.
Welcome Back BBQ (2017-11-03)
When : Friday 3 November, 5 - 7 p.m.
Where : Rice U, Valhalla Courtyard
Rice AWM hosted the annual Welcome Back BBQ, uniting members of the CAAM, MATH, and STAT departments for a low-key evening of hot dogs, burgers, veggie burgers, and fellowship. Generously sponsored by Rice SAPP Fund.
---
2016 - 2017
Cover Letter Workshop (2016-10-14)
The cover letter can be a critical component of professional communication. Our chapter invites students and postdocs in the Math, Stat, and CAAM departments to join Dr. Jan Hewitt in discussing how to approach a cover letter for an internship request, for submitting a journal paper, and for a job application.
When: 2:00-3:30PM, Friday, October 14, 2016
Where: Mechanical Laboratories, Room 251, Rice University

Please check your email from an AWM department representative for a link to sign up for the event.

Also, please bring your laptop to this event, as we will be practicing letter writing during the workshop.

---
Fall BBQ (2016-10-13)
It's time for another Fall BBQ! Join members of the Stat, Math, and CAAM departments (as well as others who like mathematics) for some food and networking.
When: Thursday, October 13, 5:00-7:00PM
Where: Duncan Hall Portico

We hope to see you there!

GEMS (2016-02-20)
We again hosted a booth at
GEMS
on February 20, 2016. This time, we looked at approximating parabolas using only straight lines!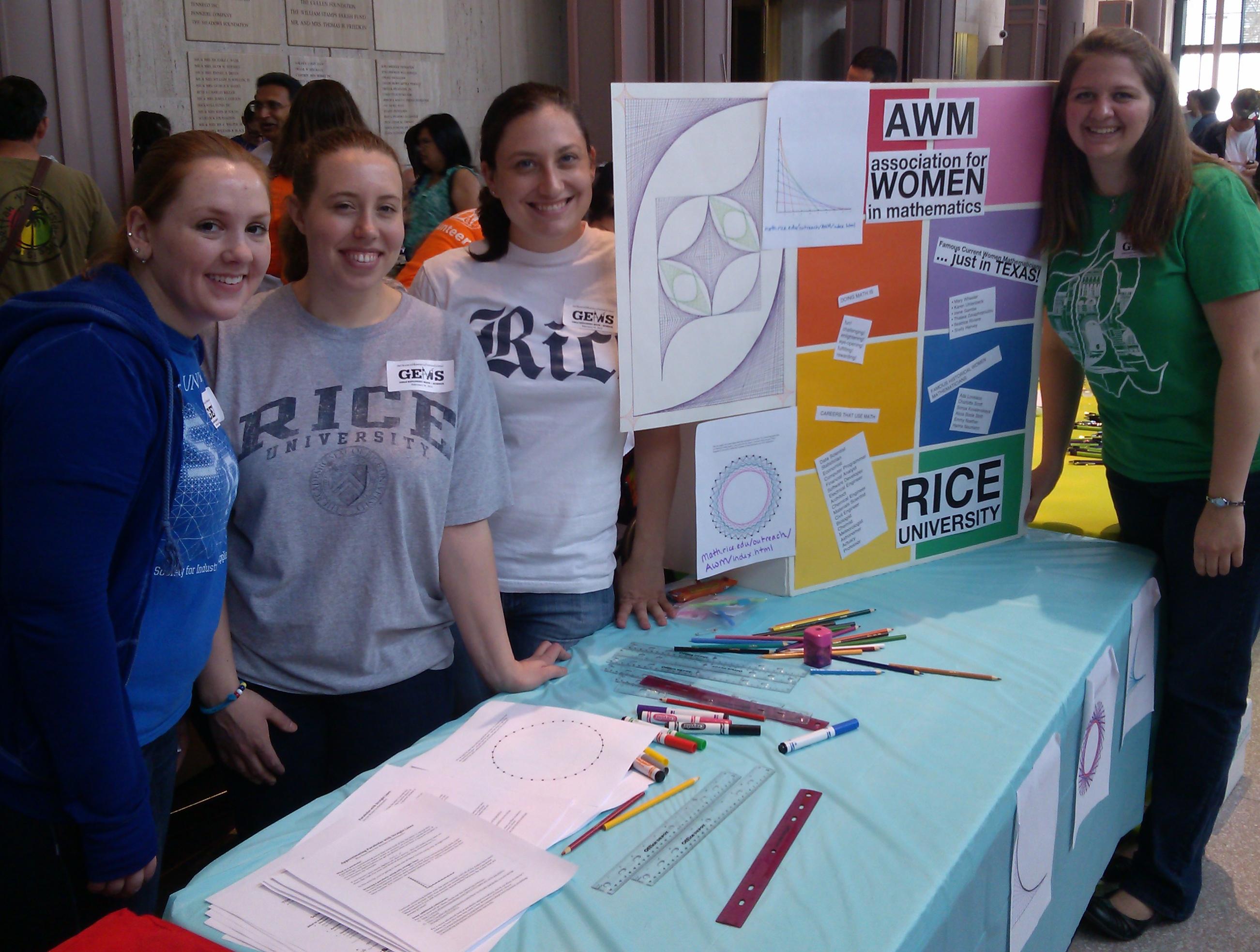 ---
Fall BBQ
It's always good to get the CAAM, Stat, and Math departments together to kick off the semester!
---
Eye Contact Equals Brain Contact
Christina Keefe, Director of the Theatre Program and Professor in the Practice in Theatre at Rice University, will be leading an interactive workshop on body language. Her extensive experience as a director, producer, performer, and vocal coach have made her an expert on the importance of body language. Please join us for this exciting opportunity!
When: Wednesday, March 18th, 11:45AM-1PM
Where: Duncan Hall 3092

Don't forget to wear comfortable clothes!
---
Pi Day
Thanks to everyone for making Pi Day a HUGE success! All three departments went above and beyond to collect canned food items to donate to the Houston Food Bank. Thanks to Dr. Sinan Ariturk from Math, Dr. Jesse Chan from CAAM, or Dr. Guerra from Statistics for being great sports and getting a pie to the face for a good cause!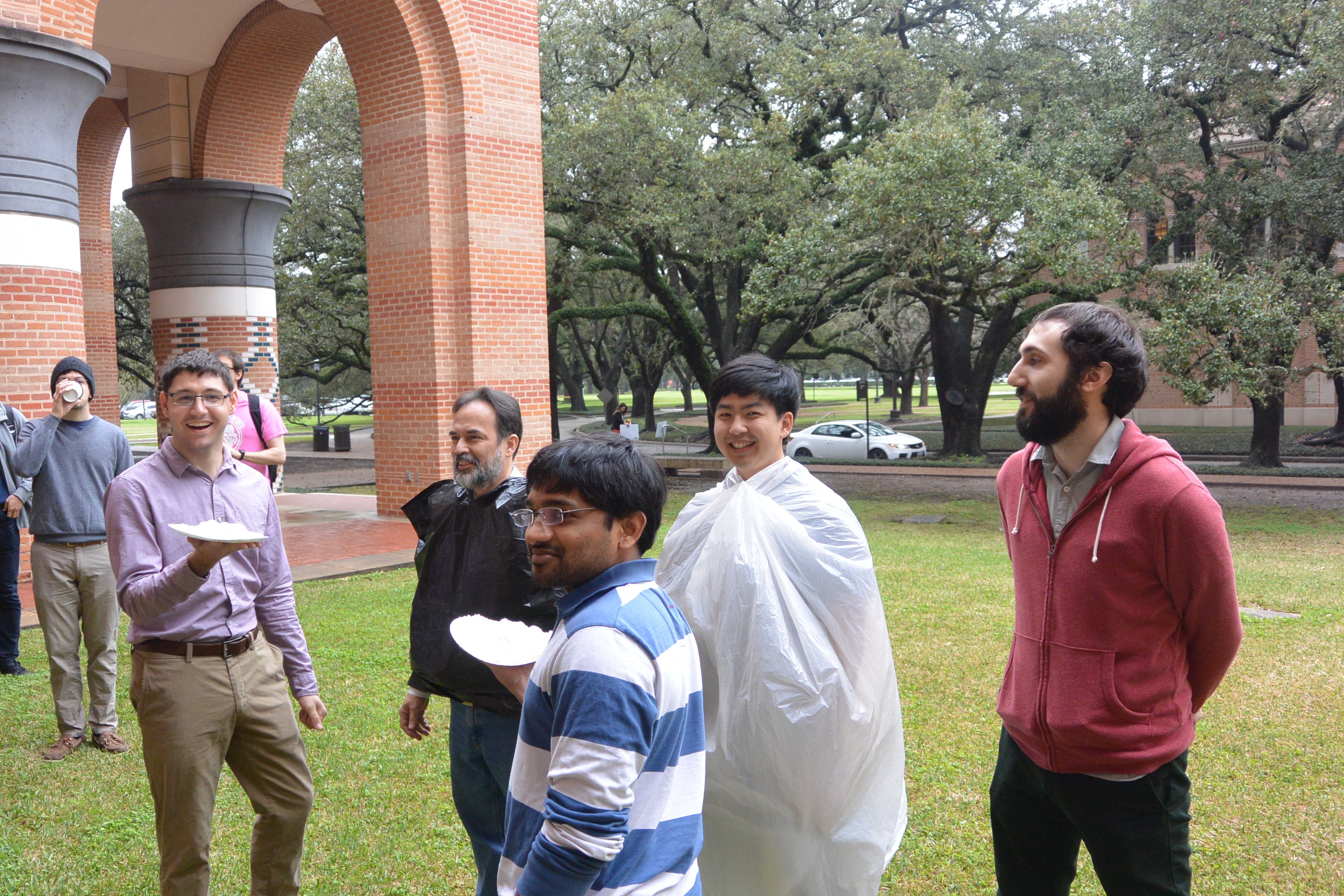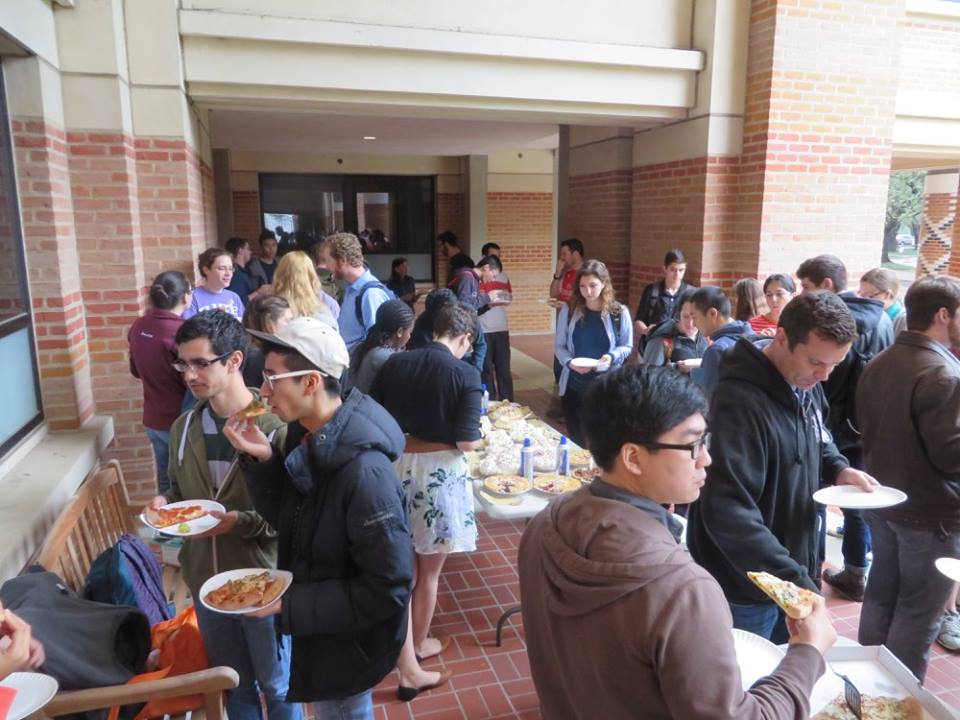 ---
GEMS
We hosted a booth at the 2015
GEMS
event, teaching on the beauty of fractals!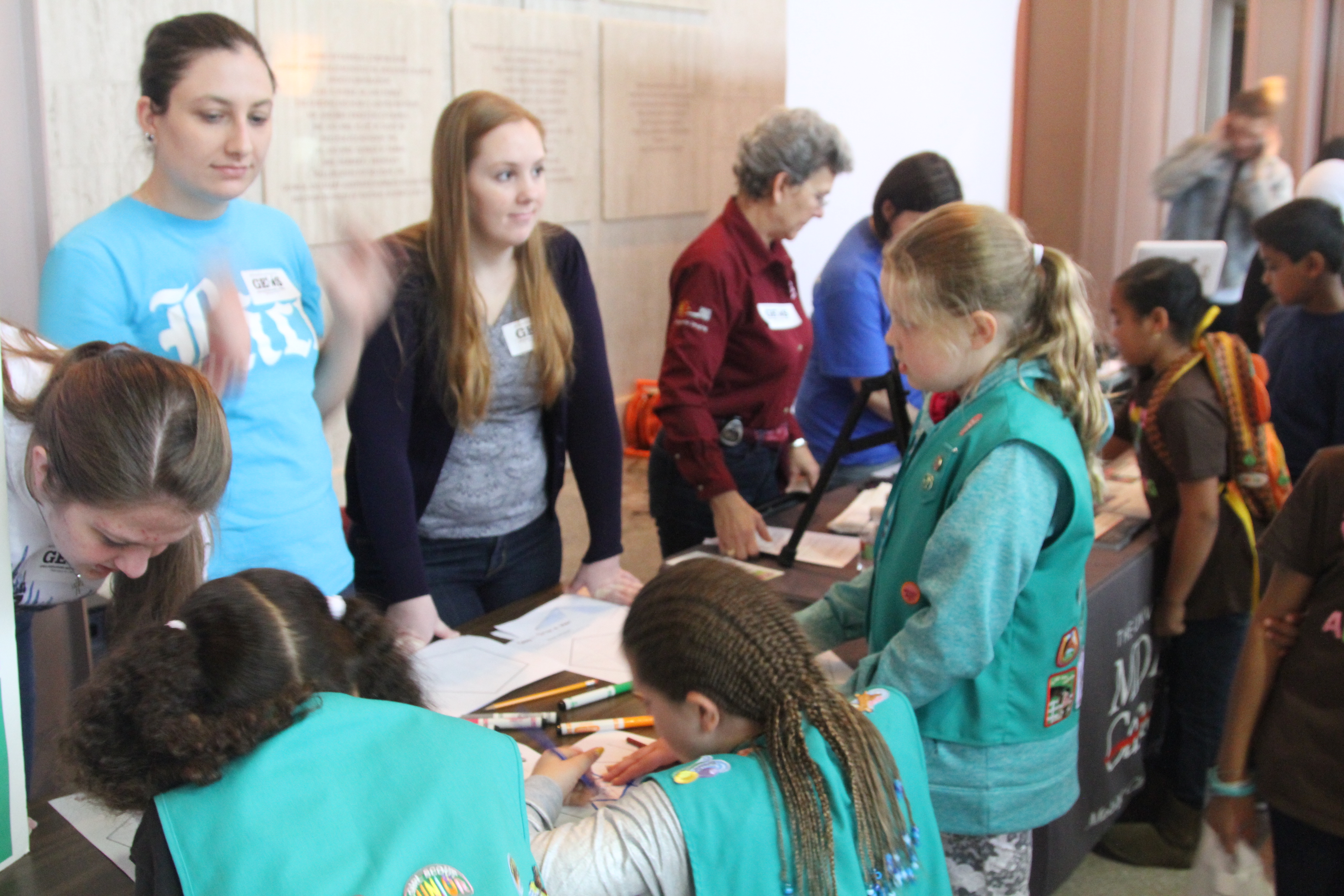 ---
Sally Ride Festival
AWM officers gave a lesson on cryptology at the 2015
Sally Ride Festival
.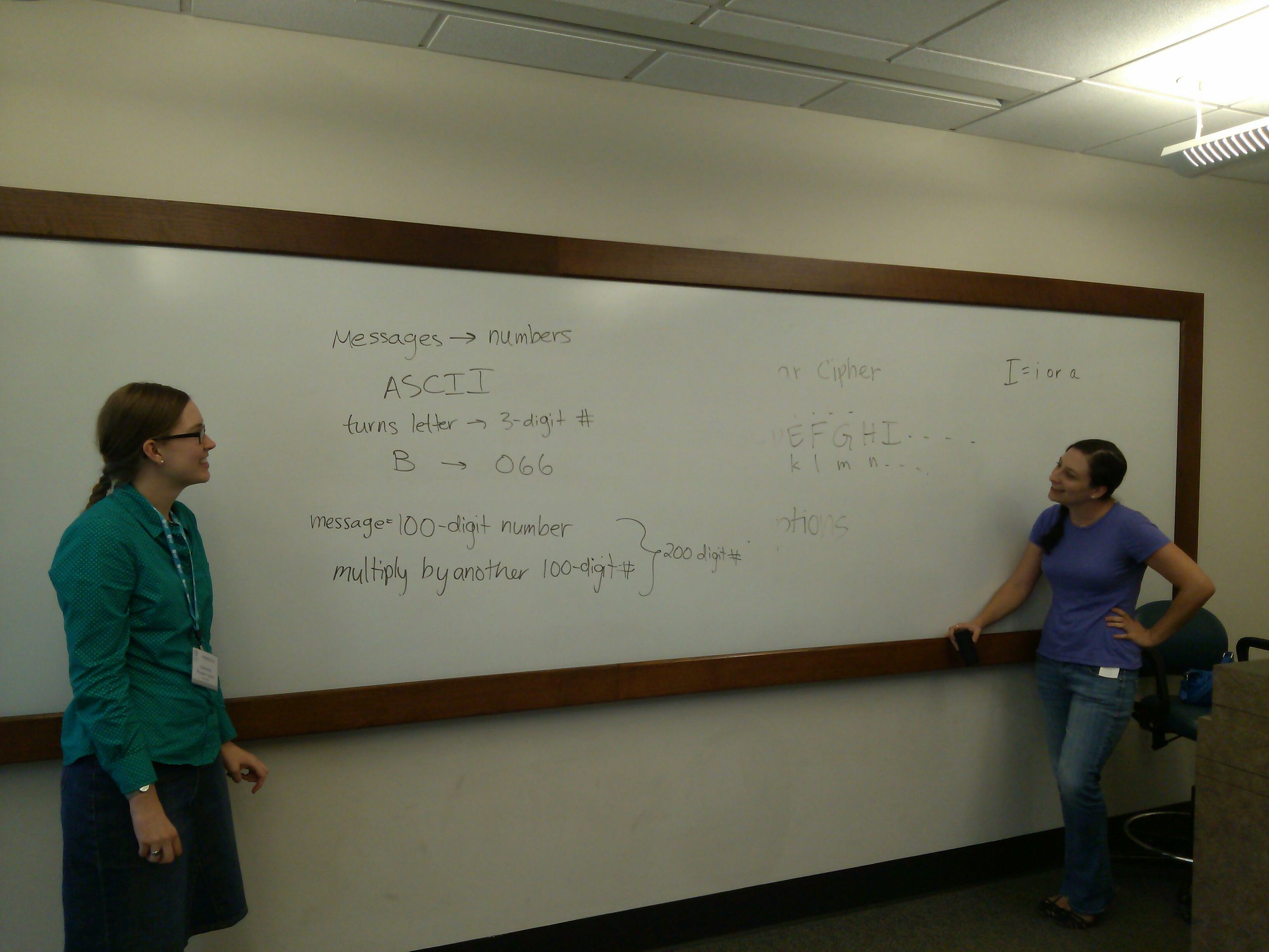 ---
AWM BBQ
Welcome and welcome back! Thanks to everyone who made the BBQ a great success!
When: Friday, September 12th, 5PM
Where: Duncan Hall Lawn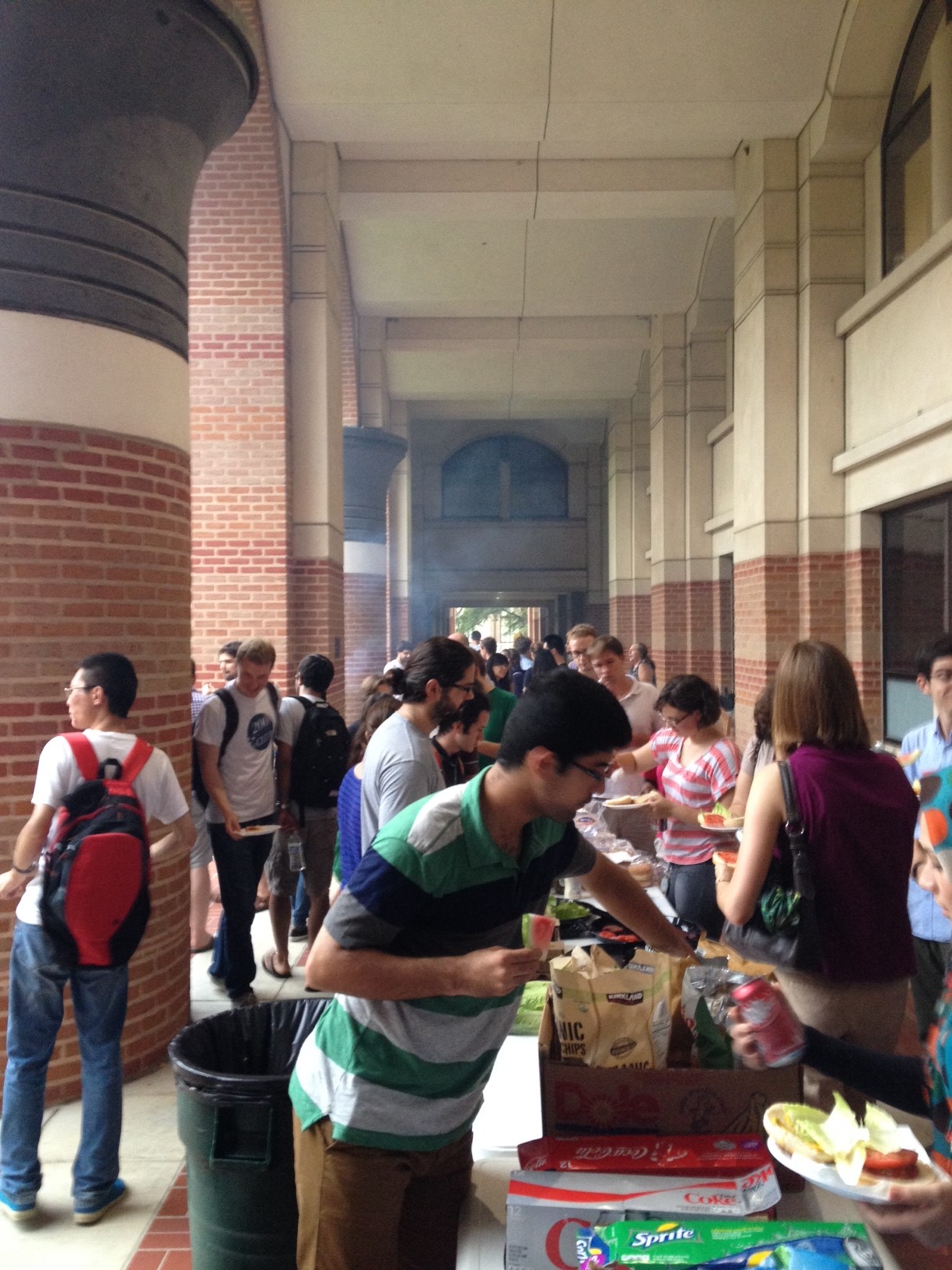 ---
Salary Negotiation Event
We had representatives from academia and industry speak about what to expect during the negotiation process.
When: Saturday, March 15th, 10AM-2PM
Where: Duncan Hall 3076

---
Girls Exploring Math and Science
When: Saturday, February 8th, 2014
Where: Museum of Natural Science

We hosted a booth at the 2014 GEMS event, working with dozens of young girls on an activity that illustrated interesting properties of Mobius strips.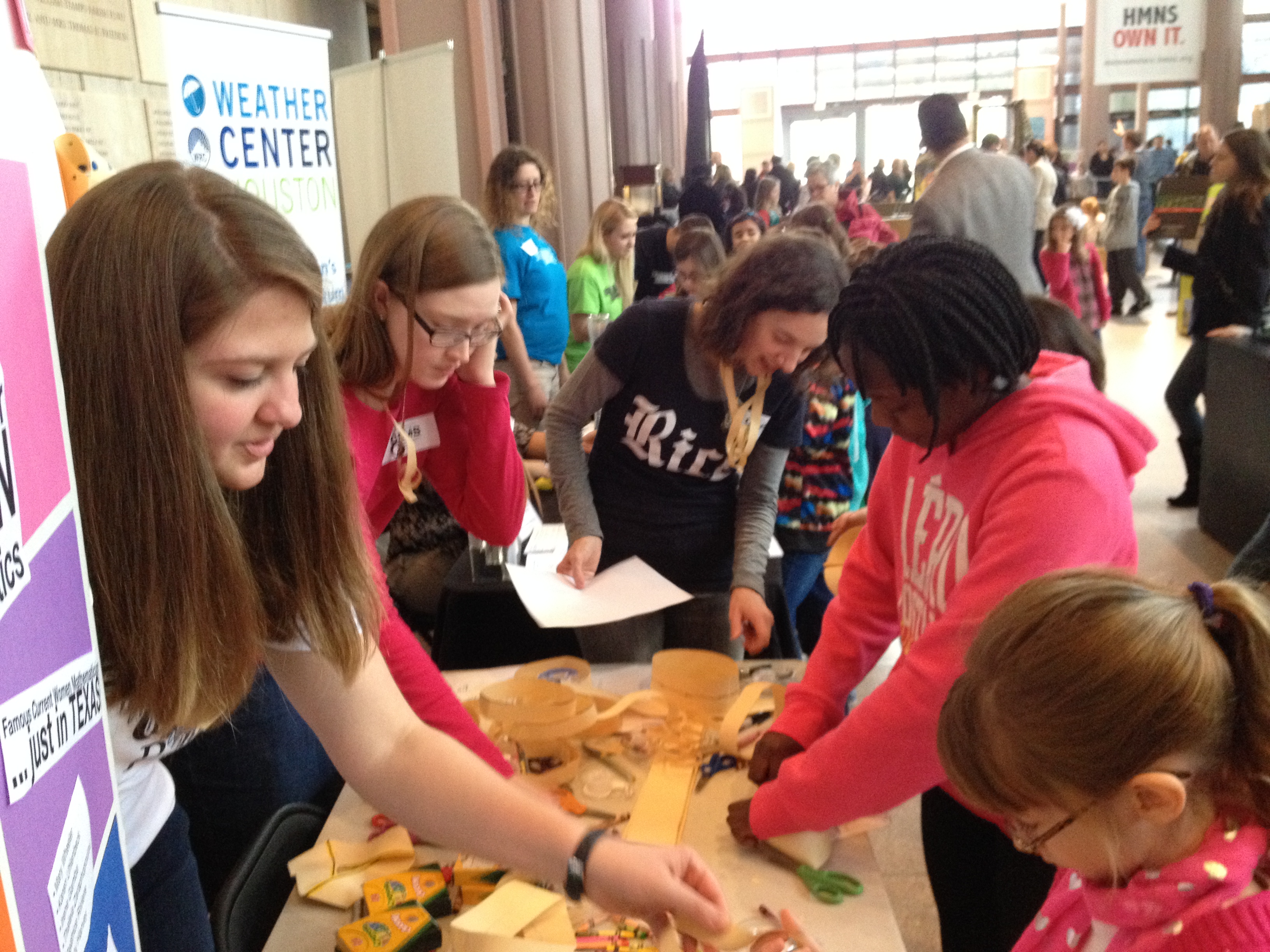 ---
Cookie decorating party
When: Monday, December 9th, 3:30PM
Where: Duncan Hall 3092

We had a great time decorating and eating cookies. Check out some of the best ones below!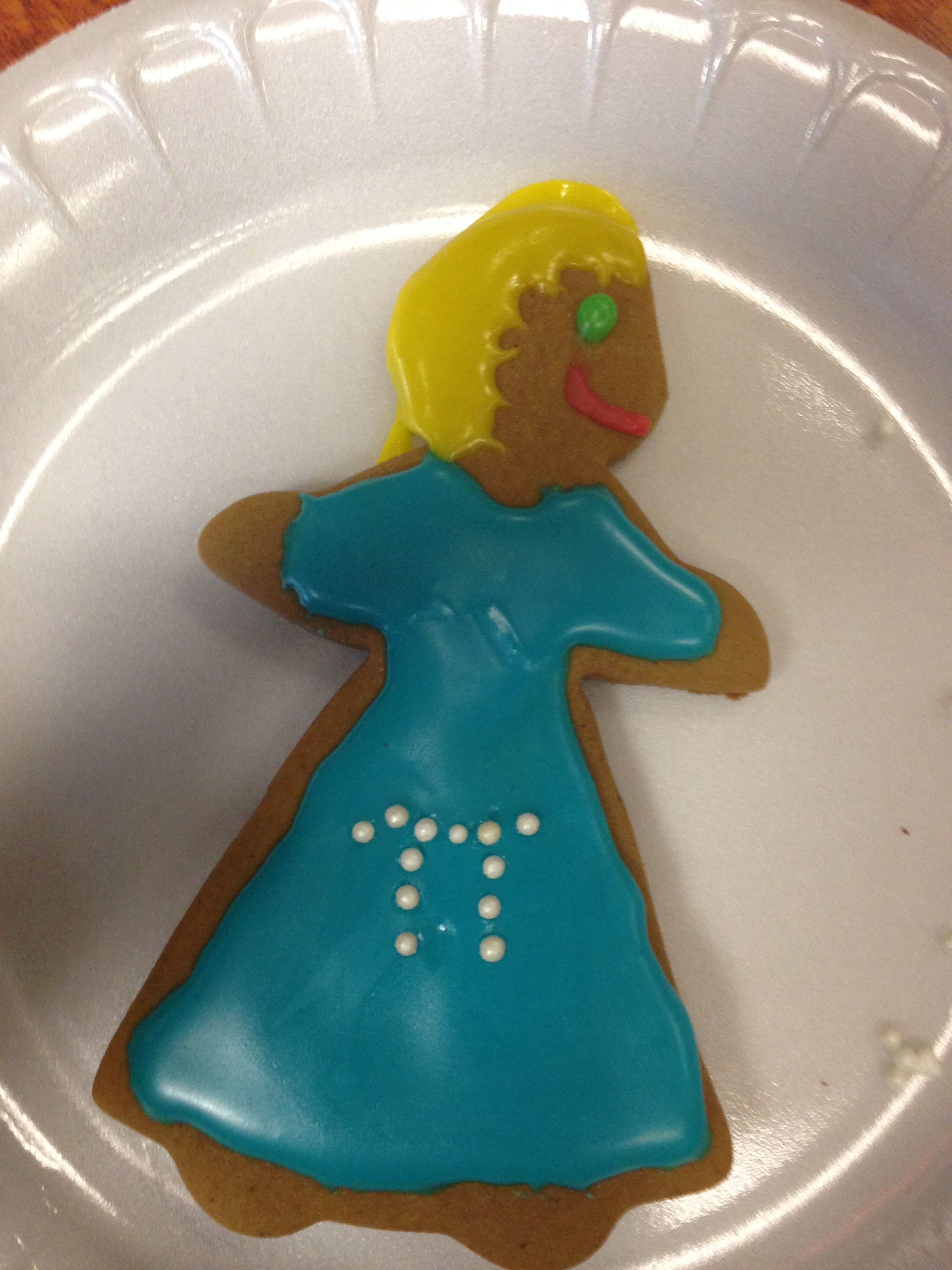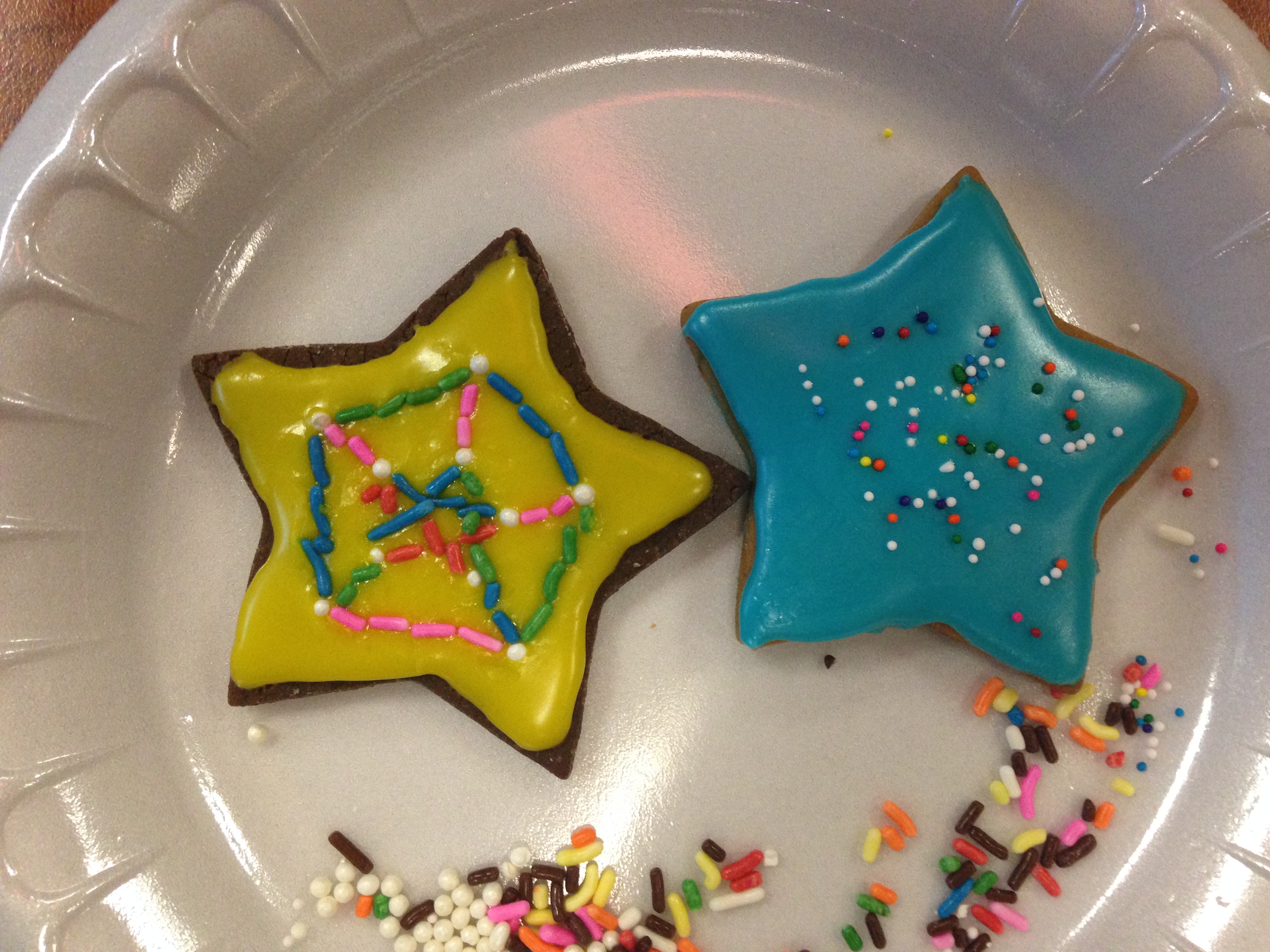 ---
Sally Ride Science Festival
October 12th, 2013, 11am-4pm
Rice University
We will be hosting a Discovery Workshop for middle school girls focused on the logic game Mastermind.
---
Breakfast 9/23 with IBM director Bonnie K. Ray
Please join the Rice Chapter of the Association for Women in Mathematics for an exciting opportunity to meet Bonnie K. Ray, Director of Optimization Research at the IBM T.J. Watson Research Lab. She will be visiting campus on September 23rd and has generously offered to have breakfast with interested students. Before joining IBM, she was a tenured professor of mathematics, so she is great role model for women interested in careers in either academia or industry. For more information, see her bio at
http://statistics.rice.edu/Content.aspx?id=2147484222
.
When: Monday, September 23rd, 8am
Where: Duncan Hall
Please RSVP by Sept. 18th to awm@rice.edu.
---
Kick-off Barbeque
Friday September 6th, 2013, 5pm
Duncan Hall portico
Stop by to enjoy a burger (or veggie burger) and meet fellow students from math, stat, and CAAM.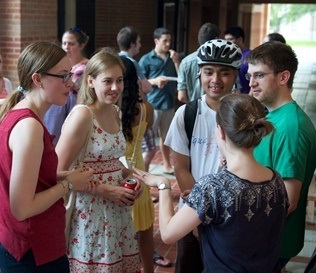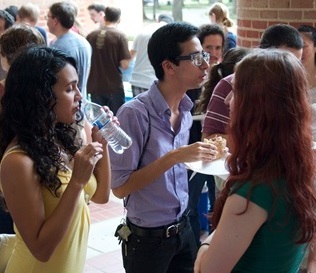 ---
Girls Exploring Math and Science
February 16th, 2013, 9am-1pm
Houston Museum of Natural Science
We hosted a community booth with a math-related origami activity for this Girl Scouts event.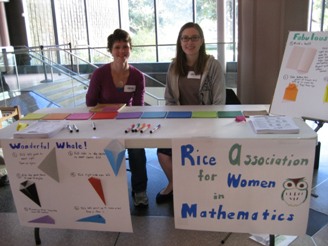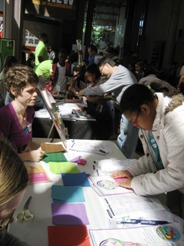 ---
Battle of the Departments Trivia Contest
Friday, January 18th at 3pm
You are invited to the Rice Association for Women in Mathematics (AWM) semester kick-off event next Friday. Come support your department in a trivia challenge between teams representing math, stat and CAAM.
What:
Trivia competition with fun questions related to math history and culture, fueled by coffee, bagels, cookies and other snacks from the Rice Coffeehouse
Where:
Duncan Hall 3092 (top floor conference room)
Who:
All students interested in math (undergrads and grads from any department) are welcome.
---
See more past events