The History of Anton Polking and Mary Woerdehoff
Anton Polking and Mary Woerdehoff were born in Germany. After immigrating to the United States, they met in eastern Iowa. They married in Petersburg, Iowa in 1875, and soon after moved to a farm in western Iowa, two miles west and one-half south of the town of Breda. There they raised a family of six children.
Anton Polking
Anton was born in Südlohne, Oldenburg on July 31, 1849. At the time Oldenburg was an independent country, ruled by the Grand Duke of Oldenburg. It was located in the far northwestern part of Germany. It was bounded on the north by the North Sea. The then existing country of Hanover bounded it on the other three sides. On its western side there was only a narrow portion of Hanover separating Oldenburg from Holland. On the southern side there was only a narrow strip of Hanover separating Oldenburg from Westphalia, then a province of the Kingdom of Prussia.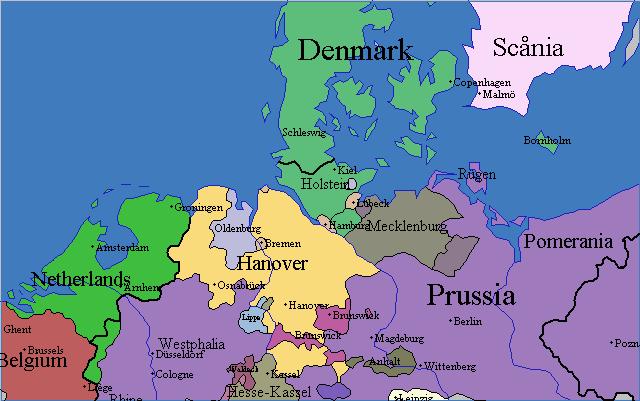 Map of northwestern Germany in 1849, showing the location of Oldenburg.
The town Lohne and the nearby village Südlohne are located in what is called Oldenburger-Münsterland, in the southernmost portion of Oldenburg. In this area the flat coastal plains of the rest of Oldenburg begin to give way to a series of hills called the Damme Gebirge. Except for the hills the land is low lying. To the east there is the Great Moor, a peat bog that stretches for miles and historically formed the eastern border with Hanover.
To this day the area is predominantly rural. It is one of the richest agricultural areas of Germany. In the middle of the nineteenth century the main crops were wheat and rye. The grain was fed mostly to pigs, but also some cattle. Today lush fields of corn and rye feature the area. The cornfields of today make the area look very much like parts of Iowa.
Oldenburger-Münsterland is the only section of Oldenburg, which is predominantly catholic. It has had a colorful political history. Until 1668 it was under the jurisdiction of the Prince Bishop of Osnabrück. At that time it was transferred to the rule of the Prince Bishop of Münster. It remained so until the Napoleonic period. When the bishopric of Münster was secularized in 1803, Oldenburger-Münsterland officially became part of Oldenburg. The situation remained unsettled however because Napoleon conquered the area in 1805 and then again in 1810. From 1810 until 1814 Oldenburg was part of France. Only after the end of the Napoleonic wars in 1815 did things return to a state of some normalcy, and Oldenburg returned to its former status as a Grand-Duchy.
About two miles south of the city of Lohne lies the Pölking family farm which has been in the possession of people named Pölking since at least the fifteenth century. The farm is described in the book Die Bauernhöfe im Amte Vechta, written by Clemens Pagenstert in 1907. The Pölking farm consisted of 98 hectares (242 acres) of prime agricultural land. There were very few farms as large as this in the area.
Just to the north of the farm place there is a hill which is the most northern of the Damme Gebirge. This hill is pleasantly wooded, and there is an outdoor Stations of the Cross proceeding up the hill, with the Crucifixion at the very top. At the base of the hill near a natural spring, there is a shrine, St. Anna-Klus, which has a history going back to the middle ages.
According to Clemens Pagenstert in Löhner Familien, "The name Pölking comes from the location of the farm at the base of a spring rich hill, in a region which was formerly under water (in the neighborhood of the Klus spring)." Indeed an etymological investigation into the English word "pool" and the related German word "pfuhle" clearly indicate a connection with earlier spellings of the name (i.e., Polekink and Polkink). Since the name arises from the physical location in which the people lived it can be expected that it arose in other similar locations. In fact this is true. While far from being common, the name Pölking exists in several locations in northwest Germany.
There are references to Pölkings living in Südlohne as early as 1498. Anton was in the direct line of descent from these early Pölkings:
Gerd Polkink & Wobbeke (refered to in 1653 and in 1664)
Hermann Polkink (1648 -) & Margaret Vortmann m. Lohne >
Hermann Pölking (1683 -) & Gesina Krogmann m. 1705, Lohne
Hermann Pölking (1706 - Jan 1789) & Phenenna Stiene (1702 -) m. 1729, Lohne
Joannes Bernd Pölking (1730 - 16 Jan 1795) & Anna Magdelene Hinners Nordlohne (1737 - later than 1778) m. 22 Apr 1760, Lohne
Johann Herman Pölking (6 Dec 1764 - 3 Feb 1850) & Gertrude Krimpenfort (27 Nov 1769 - 30 Dec 1831) m. 12 Aug 1793, Lohne
Clemens† Pölking (1 Jul 1810 - 28 Oct 1882) & Maria Anna Clementina Möhlenstedt (19 Mar 1816 - 24 Sep 1854) m. 30 Jul 1845, Lohne, Oldenburg
Anton Polking (31 Jul 1849 - 2 Feb 1927)
For more information visit:

In 1849, the year that Anton Polking was born, the farm was in the hands of his grandfather, Johann Herman Pölking and his wife Gertrude Krimpenfort. Johann and Gertrude had nine children. Coming seventh and eighth on the list on July 1, 1810, were twin sons Josef and Clemens. Clemens was to be Anton's father.

Johann Herman died in 1850 at the age of 85. Since the law of primogeniture governed inheritance in Oldenburg, the farm was left entirely to his oldest son Johann Anton. Under the rules of primogeniture the new owner was also responsible to some minimal extent for his siblings. Clemens was a laborer on the Pölking farm for his entire life, until he died in an accident at the age of 72. The same was true of his brother Bernard. However, two other brothers were laborers on other nearby farms. It is not known what happened to Clemens' twin Josef.

Things were different with Johann, the second son of Johann Herman. (Johann is not to be confused with Johann Anton, the eldest son.) In 1833 he married Maria Elisabeth Möhlenstedt, who was the eldest child in her family which owned a small farm (15 hectares or 37 acres). Since there were no male children in this family the farm was eventually inherited by Maria Elisabeth and Anton. It is interesting to notice that it was the custom in Oldenburg at the time that the children of any marriage involving the owners of a farm should take as surname the name of the farm. Thus the children of Johann and Elizabeth should have taken the name Möhlenstedt. However, just about this time the custom was changing and the descendants of this marriage use the hyphenated name Pölking-Mollenstede to this day.

Clemens was married on July 30, 1845 to Maria Anna Clementina Möhlenstedt, the sister of the Maria Elisabeth who had married his brother Johann twelve years earlier. Johann and a third brother Bernd were witnesses at the wedding. Four years later, on July 31, 1849, their marriage was blessed by the birth of a son, whom they named Anton.

A year and a half later, on January 23, 1851, the Pölkings became the parents of a daughter, Elisabeth. Anton Polking maintained contact with his sister until she died in 1922 and with her children for a short time thereafter. She married a man named Heinrich Rolfes. They had one child, a son named Klemens, and three grandchildren.

On July 13, 1854 Clemens and Clementina gave birth to another daughter, Josephina. This ill-fated child was to live only two months. A week later Clementina died as a result of the birth. So at the ages of 5 and 3 Anton and Elisabeth were left without a mother

What happened to Anton and Elisabeth at this point is a subject of some mystery. If Anton ever related the history of this portion of his life to anyone in America it is lost. There is one rather poignant story about him that has come down to us, and which gives rise to the mystery. Apparently many years after coming to America, when he heard of his mother's death he picked up his pipe and went for a long solitary walk around the farm. Quite apparently there was someone besides his true mother for whom he had affection normally due to a mother.

Once the question occurs to someone familiar with the family's history, a possible answer comes to mind. It would have been a natural thing for the children to be raised by Johann and Maria Elisabeth, who were brother and sister to the parents, Clemens and Clementina. The Pölking-Mollenstedes were the owners of a farm, which although small, was more than enough in those days to provide them with economic security, while Clemens was a widower, and was working as a laborer on the farm owned by his brother.

There is no direct evidence that Anton and Elisabeth were raised by their uncle and aunt, however there is quite a bit of circumstantial evidence. Perhaps the strongest is that Franz Pölking, a son of Johnn and Maria Elisabeth spent a considerable period in America, much of it living with Anton and his wife Mary. In addition, almost every letter from Anton's sister Elisabeth mentions the Pölking-Mollenstede family. There also exists some correspondence with the Pölking-Mollenstedes themselves. Finally, Maria Elisabeth died in 1894, a date which fits nicely with the story of Anton's grief.

Little is known of Anton's childhood. He certainly went to school, most probably to the small school in Südlohne. As a farm boy, he undoubtedly worked from an early age. Already at the age of 17 or 18 he had to plan for his future. What he saw must have looked pretty bleak.

He was a child with no chance of an inheritance. The Pölking-Mollenstedes had three sons, only slightly older than he. There was no chance even for employment there. Certainly his father was in no position to help him. Furthermore, Germany as a whole was in a period of overpopulation, especially on the farms. Farm families tended to be very large, and the number of laborer positions was not increasing. Quite the opposite was true, since the mechanization of farms was just beginning. Finding jobs on farms was almost impossible. It was the beginning of the Industrial Revolution in Germany, although it had not really reached Oldenburg yet. Many young men were moving to the large cities to try to find industrial jobs. The only other choice, which was being taken by more and more Germans, was to emigrate.

The political situation was also a matter of some concern. True, Oldenburg was one of the most democratic of the German states. Indeed most of the western part of Germany was moving to more and more liberal forms of government. However there was a countervailing nationalistic movement in all of the many German states, which was leading to the unification of Germany. While such a move could have coexisted with a move towards liberalization of the political system, the natural leader of the unification movement was the Kingdom of Prussia, which was the strongest of the German states, and which was also the most autocratic and militaristic.

In 1868 when young Anton was planning his future, things were coming to a head. In 1866, Oldenburg was a non-participating supporter of Prussia in the Seven Weeks' War. In this war Prussia quickly defeated Austria and its allies, and promptly annexed those states in northern Germany which had supported Austria. This included Hanover, and thus Prussia now bordered Oldenburg on three sides. Oldenburg joined the North Germany Confederation in 1867, a move towards unification under Prussian leadership. The unification of Germany was completed in 1871 after the Franco-Prussian War.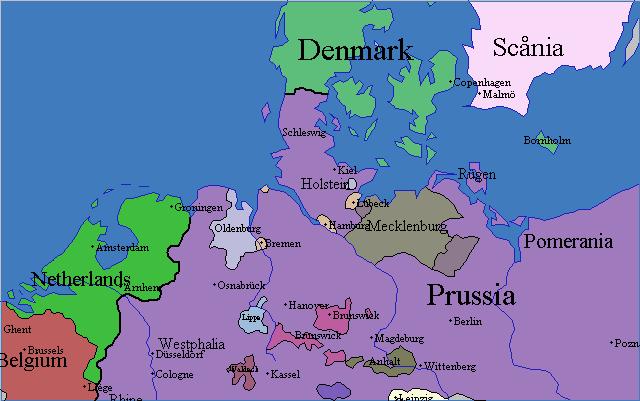 The location of Oldenburg in 1867, after the Seven Weeks' War.
Perhaps the political situation was clear to the young Anton Pölking. Years later he was to tell his children that he had left Germany to avoid Prussian militarism. There is no reason to doubt that story, but his economic situation must also have had something to do with his choice.
Whatever the reason, in 1868, not yet 19, he decided to immigrate to the United States. In an interview published in the Breda News on the occasion of his Golden Wedding Anniversary, Anton related that he left his native country on April 3, 1868. He spent 65 days at sea in a sailing ship, and landed at Baltimore in early June.
There is some question as to whether he was alone in this venture. His cousins, Klemens and Franz Pölking-Mollenstede, sons of Johann and Elisabeth, came to the United States at about the same time. It is natural to assume that they came together. The question could be answered if we could find the passenger list of the ship he came on. Unfortunately, despite the precise information we have about his passage this has not been possible.
After landing in Baltimore, he proceeded to Cincinnati. He stayed there for a time and then moved to Delaware County in eastern Iowa. The 1870 census shows him listed as a farm laborer, living with William Nothe, his wife Hannah and their two children on a farm in Bremen Township, Delaware County, near Petersburg, Iowa. He was described as 19 years of age, and born in Prussia. Anton was actually 20 at the time, and was born in Oldenburg.
On March 30, 1872 Anton purchased 120 acres of land in Carroll County, Iowa from the Iowa Rail Road Land Co. The purchase price was $7.00 per acre, and the interest rate was 9%. He made a down payment of $247.80. He apparently did not move immediately to take possession of his newly acquired property.
Mary Woerdehoff
The story of the Woerdehoffs is told in moving detail in the Woerdehoff Book, by Rufus Rauch. Indeed that is the source of most of what follows. We depart from his tale only where our research has revealed facts not known to him.
It is said there, and indeed it is family lore, that Mary was born in Erwitte, Paderborn, Westphalia. However, the church records in Hegensdorf have a record of Maria Catherine Wördehoff being baptized there on January 29, 1853. She may have been born in Erwitte, but she was baptized in Hegensdorf.
At the time, Westphalia was a part of the Kingdom of Prussia. It is geographically part of the Rhineland. On the south and west it adjoins the province of Rheinland. For centuries the Duchy of Westphalia had been a fiefdom of the Archbishopric of Cologne. In 1803 the lands of the prince bishops of northwestern Germany were secularized, and the area around Paderborn was ceded to Prussia. The provinces of the Rhineland were severely blooded during the Napoleonic wars. In 1807 Napoleon set up the Kingdom of Westphalia for his brother Jerome. After Napoleon's final downfall, the Council of Vienna once more ceded Westphalia to Prussia.
Wördehoffs are known to have been settled in the sixteenth century in the Haarstrang, a long valley in the hills of the central part of Westphalia, southwest of Paderborn. By the early eighteenth century Matthias Wördehoff and his wife Anna Maria Rinschen had settled in or near Hegensdorf, a village some miles east of the Haarstrang, south-southwest of Paderborn. The Wördehoffs of Westphalia were farmers, but not landowners. They are listed in the records as "Ackersmann" or "Taglöhner", which translate as farm worker and day laborer.
Mary Woerdehoff was a direct decendent of these Wördehoffs:
Mathias Wördehoff (- 18 Oct 1775) & Anna Maria Rinschen (after 1787) m. 25 Jan 1735,
Hegensdorf, Westphalia
Henricus Wördehoff (14 Mar 1747 - 26 Jul 1809) & Catherina Margareta Bickmann (1751 -
1 Nov 1808) m. 24 Jan 1775, Hegensdorf, Westphalia
Joannes Wördehoff (10 Mar 1775 - 7 May 1828) & Isabella Rüther (1787 - 13 Apr 1838)
m. 24 Nov 1808, Hegensdorf, Westphalia
Johann Conrad Wördehoff (6 Sep 1810 - 1 May 1870) & Catherina Margaretha Wibbekke
(2 Oct 1821 - 7 Mar 1893) m. 18 Nov 1843, St. Birgitte in Weiberg, Westphalia
Mary Woerdehoff (26 Jan 1853 - 17 Apr 1935)

For more information visit:

Mary's parents were Johann Conrad Wördehoff and Catherina Margaretha Wibbekke. Conrad was born on September 6, 1810 in Hegensdorf. Margaretha was born in the nearby town of Harth. She has the name Wübecke in most American records, but her birth and marriage records list her as Catherina Margaretha Wibbekke. They were married on November 18, 1843 in the church of St. Birgitte in Weiburg, the church attended by the inhabitants of Harth.

The union of Conrad and Margaretha was blessed with 10 children, all of whom lived to adulthood. Five were born in Germany, William, Louis, Elizabeth (married to Jacob Tiefenthaler), Mary, and Hermann. There is some evidence in the records that they moved around quite a lot, but they always maintained a home base in Hegensdorf. The economic conditions in Westphalia in the 1850s were not much different than described earlier for Oldenburg.

By 1857 Conrad and Margaretha had saved enough money to finance the immigration of their family of seven to the United States. According to the Woerdehoff Book, the trip started soon after April 13, 1857. Not noted there is that they sailed from Bremerhaven on the sailing ship Ernestine bound for New Orleans, arriving on June 17, 1857. There were 309 passengers aboard, including Conrad, Margaretha, and their five children. In the passenger list it was noted that the ultimate destination of the Woerdehoffs was St. Louis. However, after landing in New Orleans, they travelled up the Mississippi to Dubuque, most likely by steamboat.

Amazingly, already on July 13, 1857 Conrad signed an affidavit of intent to become a citizen in Delhi, Iowa, the county seat of Delaware County. Shortly thereafter he bought forty acres of land from the government. This land is located northwest of Dyersville, one and a half miles south and a quarter east of where the Church of SS. Peter and Paul and the village of Petersburg were later built.

With the help of neighbors, Conrad built a log house and planted his first crops. He later enlarged his holdings to 120 acres. He built a substantial frame house and barn and found an artesian well. According to the Woerdehoff Book, this house was still standing in 1970. It is described there as "sizable and presentable after more than a hundred years, but small even so for a family of twelve."

Conrad and Margaretha had five more children, born on this farm. Margaret (married to Peter Wolterman), twins Anton, and Bernadine (married to Anton Sumpman), Catherine (married to George Wolterman), and Henry.

Conrad died of pneumonia on May 1, 1860 at the age of sixty. He was buried in Dyersville, in the cemetery of the newly established parish of St. Francis Xavier.

Margaretha was a widow at the age of forty-nine, with nine children at home and a mortgage on a 120 acre farm. To quote Rufus Rauch in the Woerdehoff Book, "She raised the children, she managed the farm, she paid off the mortgage." The 1870 census shows Margaretha and all of her children except the oldest, Louis, living on the farm in Delaware County.

Again from the Woerdehoff Book:
To complete the story of Margaretha Woerdehoff: Margaretha was a valiant woman, of great courage and competence. The two photographs of her which have been found suggest a person of strong character. ...

According to a letter of Mother's (Elizabeth Woerdehoff Rauch, Margaretha's granddaughter) written to her granddaughter Janice Eby in the 1950s, Margaretha

When her children got married she gave her boys (5) each one a Cooper wagon, made in Dubuque and painted green, also a team of young horses. Many a Sunday did I go 6 and 1/2 miles to Mass (from the farm to Breda, in the 1890s) in this green wagon drawn by two white horses Prince and Kate. These horses lived to be 22-23 years old.... My grandmother Margaretha gave each of her girls (5) a cow, a pig and a chicken. In the spring the cow had a calf, the pig had a litter, and the chicken laid an egg! Thus the prosperity of the young couple was assured!

This grandma came to Breda to see the six of her children who settled there quite often. At the age of 72, when I was 12 (1893) she died of double pneumonia and lies buried, alone in the Sts. Peter and Paul Cemetery under a very ancient tombstone. The grandfather Konrad was buried many years earlier in St. Francis Cemetery in Dyersville. When she left this world she bequeathed $800 to each of her ten children.

The echoes that have come down to us suggest the esteem and affection in which her children and grandchildren held Margaretha Wübecke Woerdehoff.
Anton and Mary
So Mary arrived in eastern Iowa in 1857 at the age of four, and Anton came some thirteen years later. They met and they married. The ceremony took place on January 26, 1875, her twenty-second birthday, in the new church of SS. Peter and Paul in the new village of Petersburg, Iowa.
Family lore has it that in 1874 Anton came to the farm he had bought two years earlier and built a small house for his bride to be. It is certain that in the spring of 1875 they came together to take up residence in their new home, and to start turning the prairie land into a farm. At the time they came there were at least two other families living in the section of land that contained their home.
And more people were coming. The wild prairie was rapidly filling up with farms. Five of the Woerdehoff in-laws eventually came from Petersburg and sought their fortunes in northern Carroll and southern Sac Counties, all of them very near to Breda. They were Louis and Philomena Woerdehoff, Jacob and Elizabeth Tiefenthaler, Herman and Rosa Maria Woerdehoff, George and Catherine Wolterman, and Peter and Margaret Wolterman.
On the other side of the family there was Franz Pölking. He may have come to America with Anton. According to the 1870 census, he was then working on a farm in New Wine Township, Dubuque County, near Dyersville, Iowa. He was described there as 23 years old, and originally from Oldenburg. At some point he bought a farm of his own near Halbur in southern Carroll County, but at the time of the 1880 census he was living with Anton and Mary on the farm near Breda. Eventually he returned to Germany.
In the last quarter of the nineteenth century there was a considerable migration of German catholic families from the Dubuque - Dyersville - Petersburg area to Carroll and Sac Counties. In addition to those already mentioned there were other Tiefenthalers, Bruenings, Feldmanns, Bohenenkamps, Storks and many others. This migration was fed by the availability of cheap land. The land had been given in enormous grants from the government to the railroads, and the railroads were interested in putting future customers in the regions served by their trains.
Life was not easy while breaking the prairie grass sod with a primitive plow, and setting up a household. A major worry until enough of the original prairie grass had been plowed under was the threat of a prairie fire. The winters were as cold then as they are now, but then there was no insulation in the walls of the house. There was probably only the cooking range to serve as a source of heat.
Until 1877 the town of Breda did not exist. Before that it was necessary to go to Carroll or Arcadia to meet a train. It was necessary to drive hogs and cattle across country, and to cart grain in wagons to these towns in order to find a market. Until 1880 there was no church closer than Mt. Carmel. Anton and Mary's first two children were baptized in Mt. Carmel. It was necessary to go by horse drawn wagon or sleigh a distance of about 6 miles to get to church. The distance was a little shorter then because there were no roads, allowing them to proceed cross-country on the trip. A public school district was started in Breda in 1883.
One senses that this was a period of great change. Each change made the life of the community a little richer. The changes in the first ten years that Anton and Mary were in western Iowa went a long way toward transforming the frontier into the main stream of American culture.
In the boom after the Civil War, and during the industrial revolution in the United States, Anton and Mary prospered. They paid off the mortgage on the farm in 1882. In 1888 they were able to buy an additional 120 acres one mile north of their homestead. This farm was to eventually become the home of their son Frank Polking.
Anton and Mary had six children born on the farm:
Margaret (Maggie) was born on August 2, 1876. She married Joseph Feldmann on January 12, 1897 in Breda. They lived on a farm east of Breda until he died in 1905. They had 4 children, Joseph, Tony, Frank and Clara. Clara is the only one still living. She became Sister Mary Colletta, BVM. Maggie died on August 2, 1964.
Frank was born on March 14, 1880. He married Frances Julich on January 26, 1904 in Mt. Carmel. They lived most of their life on a farm two miles west and one north of Breda before they moved to Breda. They had 8 children, Art, Larry, Mildred, Juliana, Ed, Marcel, Grace, and Ray. Frank died February 3, 1966. Frances died on March 2, 1974.

Clara was born on December 8, 1882. In 1903 she joined the Franciscan order as Sister Mary Mildred. She died on June 10, 1946.

Tony was born June 13, 1885. On February 20, 1917 he married Elsie Brey in Lincoln, NE. For many years they lived on a farm one and one-half miles west of Breda. In 1940 they moved to Carroll. They had five children, Warren, Urban, Maureen, Dean, and Mark. Tony died on August 24, 1963, and Elsie died on April 2, 1977.
Mae was born January 24, 1889. She lived with her parents all of her life. She died November 11, 1918, a victim of the flu epidemic which swept through most of the world.
Clem was born January 14, 1892. On May 16, 1927 he married Anne Dopheide in Carroll. They lived their whole life on the original Polking farm. They six children, Phyllis May, Jim, John, Bill, Paul, and Joe. Clem died on October 28, 1978, and Anne died on November 25, 1989.
In 1892 Anton and Mary built a new large frame house on the farm. The original small house that Anton built still exists. It was moved a mile north to the farm owned by their son Frank Polking, and there was used as for a variety of purposes including as a granary, and as a hog house. Looking at this building, it is hard to imagine a family of eight living there.
Pioneers like Anton and Mary took great risks going into the relative unknown with the hope of finding something better. It was not easy to leave, most likely forever, the comfort of family and friends to seek out a new life. It took great courage and endurance. It took intelligence and ingenuity to solve the problems that unexpectedly arose. In the end they succeeded by almost any standard. They lived lives that earned the respect of their neighbors and their family.
Credits
The main sources for the materials presented here are:
| | |
| --- | --- |
| | Lohner Familien by Clemens Pagenstert (1927 republished in 1975) |
| | Die Bauernhöfe im Amte Vechta by Clemens Pagenstert (1908 republished in 1976) |
These two books provide an immense amount of information about the town of Lohne and its surroundings, including in Lohner Familien the genealogies of the leading families. Unfortunately they are out of print. However, they are available through any Family History Museum of the Church of Latter Day Saints.
| | |
| --- | --- |
| | The Woerdehoff Book by Rufus Rauch (1976) |
This book by cousin Rufus Rauch is the best source of information about the roots of the Wördehoff family. It is a Xeroxed manuscript, so it is only available from someone who has a copy.
The genealogical data presented here comes from several sources. First of all the above listed references provided a start. I did some searching myself, but the data collected by cousin Martin Fee has in may cases gone beyond mine, and it is included. Finally cousin Joe Biene has researched the Wördehoff family and I have included his data in cases where it supplements my own.
Finally the maps were created with the wonderful program Centennia by Clockwork Software, Inc.
John C. Polking
---
Contents * Index * Surnames * Contact